Lottery Message Mats
Size: 3'x5'
If you sell lottery tickets at your location, these mats are simply a must! As customers are often in a rush, wrapped up in conversation or on their mobile devices, it's important to take every opportunity to cross-sell your products. Just think of these mats as a silent salesperson 100% dedicated to promoting impulse buys. Attractive and practical, they also hide stains and help prevent people from slipping on drink fountain or coffee station spills. Dempsey's mat rental service includes the regular exchange of soiled mats for freshly laundered ones.
• Twisted, heat-set nylon pile on nitrile rubber backing
• Increase sales and store traffic
• Place lottery mats at ticket machines
• Fresh, clean mats are delivered on a regular schedule
• Professionally cleaned so each mat works like a new one
Need help or have questions?
How a Mat Rental Service Works
To be effective, mats need to be professionally cleaned on a regular basis. Otherwise, they contribute to the problem rather than solving it.
With a rental program, Dempsey purchases, cleans and replaces your floor mats automatically.  On a set schedule, a professional route person will exchange clean, laundered mats for your soiled ones. Renting from Dempsey is a convenient, cost-effective way to stop dirt at the door and keep your place of business clean.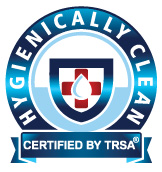 Dempsey is a Certified Hygienically Clean Laundry.
Certified by TRSA
Requires third-party, quantified biological testing and inspection
Use of PPE is documented
Dempsey Uniform & Linen Supply is a top-rated mat rental service company.
Our $18 million commercial laundry service facility has received national recognition for its state-of-the-art processing systems.
Get more Value with these Resources: