Complete Comfort Mats
Size: 2'x3'
Workers who are comfortable will often be more productive. Complete Comfort Mats provide a soft, resilient surface that contributes to a more pleasant working environment. With beveled edges that hug the floor and a slip-resistant finish, this mat is an excellent way to help reduce trips and falls. Plus, the rubberized surface can help reduce accidental breakage of glass or fragile items that could be accidently dropped during the course of the day.
• Closed-cell nitrile rubber
• Beveled edges for easier floor to mat transition
• Slip-resistant, anti-microbial treated surface
• Ergonomic, anti-fatigue mats are essential where workers stand to help ease leg, foot, and lower back fatigue and pain
Need help or have questions?
How a Mat Rental Service Works
To be effective, mats need to be professionally cleaned on a regular basis. Otherwise, they contribute to the problem rather than solving it.
With a rental program, Dempsey purchases, cleans and replaces your floor mats automatically.  On a set schedule, a professional route person will exchange clean, laundered mats for your soiled ones. Renting from Dempsey is a convenient, cost-effective way to stop dirt at the door and keep your place of business clean.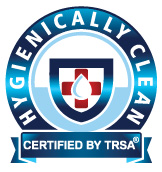 Dempsey is a Certified Hygienically Clean Laundry.
Certified by TRSA
Requires third-party, quantified biological testing and inspection
Use of PPE is documented
Dempsey Uniform & Linen Supply is a top-rated mat rental service company.
Our $18 million commercial laundry service facility has received national recognition for its state-of-the-art processing systems.
Get more Value with these Resources: