Waterhog Mats
Sizes: Available in a variety of sizes
Famous for its heavy-duty styling and unrivaled performance, our rubber-backed Waterhog Mats don't move - even in the harshest weather conditions. A perfect choice for high-traffic areas, the tough, crush-resistant surface is reinforced with rubber nubs that aggressively remove dirt and debris from shoes, sneakers, and boot treads. To help minimize droplets and puddles that can lead to slips and falls, a specially constructed WaterDam border traps rain, sleet, and snow, holding more than a gallon of water and keeping it from being tracked inside. In addition to protecting walking surfaces from unnecessary wear and tear, these mats greatly reduce the appearance of general untidiness. Less clean-up also means a reduction in associated cleaning costs. Dempsey's mat rental service includes the regular exchange of soiled mats for freshly laundered ones.
• Cleated, nitrile rubber backing
• 100% Recycled P.E.T. textile surface
• Raised nubs aggressively wipe dirt and moisture off shoes
• "WaterDam" border keeps water in the mat and off floors
• Lies flat and stays put in demanding conditions, even under rolling carts
• Fresh, clean mats are delivered on a regular schedule
• Professionally cleaned so each mat works like a new one
Need help or have questions?
How a Mat Rental Service Works
To be effective, mats need to be professionally cleaned on a regular basis. Otherwise, they contribute to the problem rather than solving it.
With a rental program, Dempsey purchases, cleans and replaces your floor mats automatically.  On a set schedule, a professional route person will exchange clean, laundered mats for your soiled ones. Renting from Dempsey is a convenient, cost-effective way to stop dirt at the door and keep your place of business clean.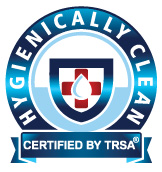 Dempsey is a Certified Hygienically Clean Laundry.
Certified by TRSA
Requires third-party, quantified biological testing and inspection
Use of PPE is documented
Dempsey Uniform & Linen Supply is a top-rated mat rental service company.
Our $18 million commercial laundry service facility has received national recognition for its state-of-the-art processing systems.
Get more Value with these Resources: