5 Reasons Why Employee Uniforms Should Include Outdoor Jackets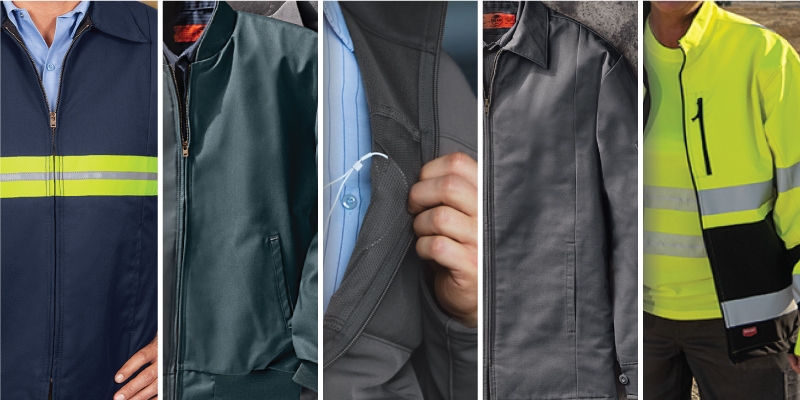 1. Professional Appearance
Providing team members with attractive, quality jackets gives your crew a crisp, clean, professional look, a benefit that helps you put your best foot forward with customers, prospects, and vendors. Without proper uniform outerwear, employees will either suffer the effects of weather and its consequences or don their own personal jackets as needed – mystery garments that could be in any state of appearance or disrepair. Plus, customers perceive staff garbed in nice, neat uniforms as possessing a higher degree of competence and more authority than employees clad in their personal clothing choices. Available in a variety of sizes and colors, Dempsey's twill Team Jackets project a professional presence while being highly functional. A zip-in/zip-out liner allows your people to adjust easily to weather and temperature variations, making this an ideal, all-around uniform jacket. An important addition to our uniform rental program, Dempsey Uniform's entire collection of quality outerwear is available for direct sale and includes optional professional laundering in our Certified Hygienically Clean laundry facilities.
2. Comfort and Productivity
Improperly clad employees who work in the cold or are required to move between environments with varying temperatures often find it difficult to concentrate. They typically become fatigued faster and are ultimately less productive and detail-oriented than workers who are properly attired. At Dempsey Uniform, our uniform outerwear options are cut for a comfortable, roomy fit, a feature that increases the likelihood that your people will wear them regularly. With ongoing wear comes the occasional tear, stain, or broken zipper, all of which will be inspected and repaired if you choose to return your garments to be professionally laundered. Whether your workers require a light layer or heavier protection, Dempsey has a perfect outerwear solution. Water- and wind-resistant, our Soft-Shell Jackets are an excellent choice for fluctuating temperatures and changing environments. Featuring poly/spandex construction, a fleece lining, and zippered pockets, they also layer beautifully underneath heavier outerwear, like our rugged Perma-Lined Panel Jackets. Workers appreciate the Panel Jacket's toasty-warm, permanent lining and protective outer shell that traps and holds body heat while they're on the job in cold places – indoors and outdoors – like construction sites, warehouses, fulfillment centers, and garages.
3. Health and Safety
Protect your people and their productivity by planning ahead! A warmly dressed worker is one who will almost certainly stay healthier, especially during cold and flu season. As a more comfortable worker is a more careful worker, something as simple as a jacket can help keep team members focused and reduce the chance of accidents. Quality outerwear also provides workers with an extra layer of padding between them and their surrounds, and specific protection – like our ANSI/ISEA 107-2015 type R class 3 compliant Hi-Visibility Soft Shell Jackets – safeguards workers in low-light environments. Designed with a bit of Spandex for stretch, these vivid yellow jackets are constructed with 2" silver reflective trim and a water-repellent shell. For loading docks, warehouses, and traffic situations, our Enhanced Visibility Lined Panel Jackets, featuring reflective trim across the chest and back and down both sleeves, can help improve non-verbal communication by making arm and body movements easier to see.
4. Employee Morale and Retention
Team members who receive professional uniforms and proper protective equipment look and feel like their employer cares about their well-being. Company-supplied jackets also free managers from the uncomfortable task of informing employees that their personal garments are unsuitable, sparing everyone unnecessary tension. When a work environment is proactive and positive, everything gets better: productivity, attendance, morale, and more! These days, any edge over your competition can translate into a meaningful gain. Recruiting and training new employees costs money. Treat your people right and let your competition worry about their trained workers applying for jobs at your place of business.
5. Brand Communication
Although most organizations invest money in marketing, they don't always consider that employees play an important role in that outreach. When team members wear quality, branded outerwear, emblazoned with their name and a company logo, prospects, and customers can quickly and easily identify them as employees. Over time, as representatives of your business participate in events like fundraisers, parades, and industry gatherings, matching outerwear sends a cohesive message of professionalism and team spirit to everyone in attendance.
Why choose Dempsey Uniform & Linen Supply for employee uniform outerwear? For 60+ years, our tenured team has gone the extra mile to provide customers like you with the best possible uniform rental services. Our quality outerwear – highly rated for appearance, comfort, and durability – is delivered on time, at a fair price, by friendly Route Representatives who can help you further streamline your uniform program.
Call 1-800-378-8060 to request an outerwear quote today and discover how it feels to be treated like family.
Dempsey Uniform is a highly respected industry leader.