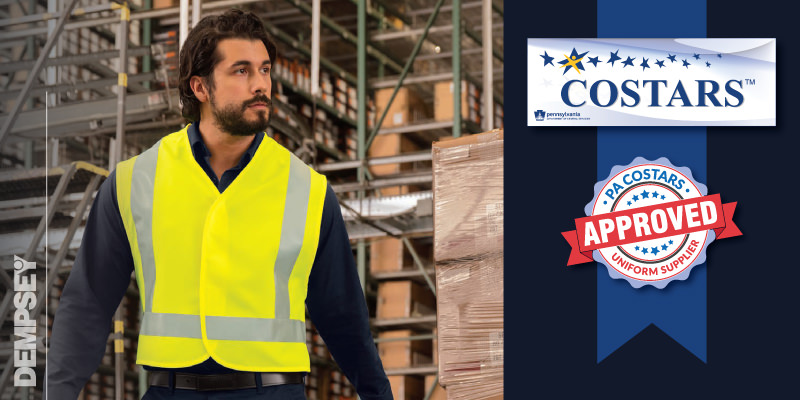 Dempsey Announces COSTARS Supplier Status
Dempsey Uniform & Linen Supply is pleased to announce our status as an Approved COSTARS Uniform Supplier. COSTARS, a Cooperative Purchasing Program established by the Pennsylvania Department of General Services (DGS), frees public procurement units from time-consuming bidding processes, cutting through the red tape and streamlining their ability to purchase uniform rentals and other services from fully vetted, quality suppliers.
Evidence of the program's success, the number of COSTARS members is fast approaching 10,000 strong. Membership costs nothing and is open to municipalities, school districts, nonprofit fire/rescue/ambulance companies, tax-exempt, nonprofit educational and public health institutions, and more (view membership eligibility).
Kristin Dempsey, Vice President of Dempsey Uniform & Linen Supply, explains how it works, "To qualify as a COSTARS Supplier, businesses like ours pay a fee to be evaluated on the quality of our products, responsiveness to the public, pricing competitiveness, and reputation. Typically, these time-consuming checks are done by purchasing agencies during the bidding process, extra labor that costs taxpayers more money. The COSTARS program ensures that tax dollars are spent appropriately, with all the proper protections and oversight in place, while greatly increasing purchasing efficiencies."
Upon approval, Dempsey Uniform generated a series of formal bids to supply uniform rental services to COSTARS members. Items include work shirts and pants, specific protection (flame resistant, high visibility, anti-static, pocketless, etc.), scrubs and lab coats, patient apparel, food service uniforms, and outdoor jackets. Organizations can log in and view our bids, select the ones that best meet their needs, and tailor their requests with details like cost, turnaround, and quantities.
Process improvement, the very essence of the COSTARS program, has been a core value at Dempsey for more than 60 years. Independent, family-owned, and named one of the "Best Places to Work in PA" for two years in a row, Dempsey continues to invest in leading-edge technologies. Our $18 million, Certified Hygienically Clean commercial laundry facility has received national recognition for its state-of-the-art processing systems.
"Our commitment to process improvement doesn't stop there," says P.J. Dempsey, President of Dempsey Uniform & Linen Supply. "We were also the first company in America to achieve TRSA Clean Green® Certification, a program that recognizes a textile service company's continuing commitment to improving efficiencies in water and energy conservation, and adoption of best management practices for reusing, reclaiming and recycling resources."
P.J. and Kristin Dempsey agree, "At Dempsey Uniform, we continually strive to elevate our people, products, and processes to deliver a superior customer experience."
---
DEMPSEY CONTRACT TITLE: COSTARS-37 UNIFORMS, including Uniform Rental and Uniform Leasing Services
CONTRACT NUMBER: 037-027 – UNIFORMS
VENDOR NUMBER: 119288
To learn more or get started, contact our experts.
Dempsey Uniform is a highly respected industry leader.