Mopping Chemicals
Size: 4 fl. oz. Portion Pouch Concentrate
In addition to rental mops, Dempsey Uniform offers bucket chemicals that can be purchased as needed and added to your regular delivery. Our citrus-scented Multi-Purpose Cleaner is a multi-functional detergent complex, blended with powerful surfactant technology to provide outstanding deep scrub performance. Totally free of harsh alkali, solvents, ammonia, and abrasives, this product can be diluted and used on any surface not harmed by water. Our Neutral Damp Mop Cleaner is specially designed for a multitude of cleaning procedures on high-gloss floor finishes. Excellent cleaning properties and a pleasant fragrance make it ideal for damp mopping or scrubbing floors while preserving gloss in high traffic areas. The non-streaking, no-rinse formula also saves on labor costs.
• Portion pouches deliver the precise amount of cleaner concentrate to your cleaning bucket
• No special measuring equipment necessary
• Accurate dilution every time
• Portion pouches are less expensive than mechanical dilution devices and the "glug-glug" method with jugs
• Simple system reduces training time
• NSF approved
Need help or have questions?
How a Mat Rental Service Works
To be effective, mats need to be professionally cleaned on a regular basis. Otherwise, they contribute to the problem rather than solving it.
With a rental program, Dempsey purchases, cleans and replaces your floor mats automatically.  On a set schedule, a professional route person will exchange clean, laundered mats for your soiled ones. Renting from Dempsey is a convenient, cost-effective way to stop dirt at the door and keep your place of business clean.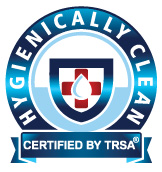 Dempsey is a Certified Hygienically Clean Laundry.
Certified by TRSA
Requires third-party, quantified biological testing and inspection
Use of PPE is documented
Dempsey Uniform & Linen Supply is a top-rated mat rental service company.
Our $18 million commercial laundry service facility has received national recognition for its state-of-the-art processing systems.
Get more Value with these Resources: