Synergy Wet Mops
Securely constructed, laundry-friendly mops are an environmentally conscious, hygienic alternative to disposable mops that, eventually, end up as waste in our landfills. A welcome addition to any janitorial cart, Synergy Wet Mops' high level of absorbency and performance helps reduce downtime, minimize labor, and improve employee morale. Dempsey's mop rental service includes the regular exchange of soiled mops for freshly laundered ones.
• Looped-end construction and double tailbands eliminate snagging and improve performance
• Made with 4-ply yarn that is mildew and bleach resistant to prevent deterioration and improve hygiene
• Fresh, clean mops are delivered on a regular schedule
Need help or have questions?
How a Mat Rental Service Works
To be effective, mats need to be professionally cleaned on a regular basis. Otherwise, they contribute to the problem rather than solving it.
With a rental program, Dempsey purchases, cleans and replaces your floor mats automatically.  On a set schedule, a professional route person will exchange clean, laundered mats for your soiled ones. Renting from Dempsey is a convenient, cost-effective way to stop dirt at the door and keep your place of business clean.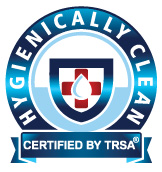 Dempsey is a Certified Hygienically Clean Laundry.
Certified by TRSA
Requires third-party, quantified biological testing and inspection
Use of PPE is documented
Dempsey Uniform & Linen Supply is a top-rated mat rental service company.
Our $18 million commercial laundry service facility has received national recognition for its state-of-the-art processing systems.
Get more Value with these Resources: