Super Scraper Mats
Sizes: 3'x5', 4'x6'
Stop dirt at the door, before it enters your building, with Dempsey's Super Scraper Mat. With multi-directional surface cleats, these mats scrape shoes clean of debris. To prevent tracking, dirt and sand are trapped below shoe level while drainable borders filter water off the mat. Most doors open easily over this low-profile mat and the heavy nitrile rubber construction keeps it firmly in place. The high-traction surface is slip-resistant even in wet environments.
• Perfect for building entrances
• Nitrile rubber, 3/16″ thickness
• Outdoor use
• Multi-directional surface cleats
• Drainable borders
• Certified "high-traction" by the National Floor Safety Institute (NFSI)
• Fresh, clean mats are delivered on a regular schedule
• Professionally cleaned so each mat works like a new one
Need help or have questions?
How a Mat Rental Service Works
To be effective, mats need to be professionally cleaned on a regular basis. Otherwise, they contribute to the problem rather than solving it.
With a rental program, Dempsey purchases, cleans and replaces your floor mats automatically.  On a set schedule, a professional route person will exchange clean, laundered mats for your soiled ones. Renting from Dempsey is a convenient, cost-effective way to stop dirt at the door and keep your place of business clean.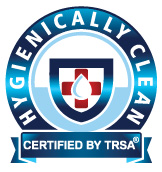 Dempsey is a Certified Hygienically Clean Laundry.
Certified by TRSA
Requires third-party, quantified biological testing and inspection
Use of PPE is documented
Dempsey Uniform & Linen Supply is a top-rated mat rental service company.
Our $18 million commercial laundry service facility has received national recognition for its state-of-the-art processing systems.
Get more Value with these Resources: