Scraper Micro-Mats
Size: 3'x5'
Looking for a multipurpose mat that functions beautifully in a variety of interior and exterior conditions? Look no further. Using it outside? Instead of allowing dirt and moisture to build up on the mat surface and be tracked into the building, the holes in this mat allow it to fall through and remain outside where it belongs. As an inside solution, this mat is lightweight, easy to clean, and an excellent preventative measure against slips and falls. Dempsey's mat rental service includes the regular exchange of soiled mats for freshly laundered ones.
• This mat is perfect for building entrances
• Molded nitrile rubber
• Indoor or outdoor use
• In addition to its scraper and anti-slip properties, each Scraper Micro-Mat is manufactured with an anti-microbial agent that inhibits the growth of bacteria
• Fresh, clean mats are delivered on a regular schedule
• Professionally cleaned so each mat works like a new one
Need help or have questions?
How a Mat Rental Service Works
To be effective, mats need to be professionally cleaned on a regular basis. Otherwise, they contribute to the problem rather than solving it.
With a rental program, Dempsey purchases, cleans and replaces your floor mats automatically.  On a set schedule, a professional route person will exchange clean, laundered mats for your soiled ones. Renting from Dempsey is a convenient, cost-effective way to stop dirt at the door and keep your place of business clean.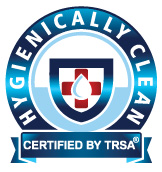 Dempsey is a Certified Hygienically Clean Laundry.
Certified by TRSA
Requires third-party, quantified biological testing and inspection
Use of PPE is documented
Dempsey Uniform & Linen Supply is a top-rated mat rental service company.
Our $18 million commercial laundry service facility has received national recognition for its state-of-the-art processing systems.
Get more Value with these Resources: