Deli Message Mats
Size: 3'x10'
Dempsey's extended-length, rectangular Deli Message Mats perfectly span the length of your delicatessen or deli counter, and create a comfortable standing surface for a long line of customers. Eye-catching images, dyed in rich, durable colors, add visual interest, help promote safety, and encourage add-on sales. Dempsey's mat rental service includes the regular exchange of soiled mats for freshly laundered ones.
• Twisted, heat-set nylon pile on nitrile rubber backing
• Communicate your specialty with vivid, graphic designs
• Fresh, clean mats are delivered on a regular schedule
• Professionally cleaned so each mat works like a new one
Need help or have questions?
How a Mat Rental Service Works
To be effective, mats need to be professionally cleaned on a regular basis. Otherwise, they contribute to the problem rather than solving it.
With a rental program, Dempsey purchases, cleans and replaces your floor mats automatically.  On a set schedule, a professional route person will exchange clean, laundered mats for your soiled ones. Renting from Dempsey is a convenient, cost-effective way to stop dirt at the door and keep your place of business clean.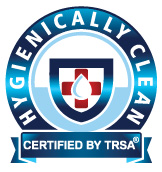 Dempsey is a Certified Hygienically Clean Laundry.
Certified by TRSA
Requires third-party, quantified biological testing and inspection
Use of PPE is documented
Dempsey Uniform & Linen Supply is a top-rated mat rental service company.
Our $18 million commercial laundry service facility has received national recognition for its state-of-the-art processing systems.
Get more Value with these Resources: