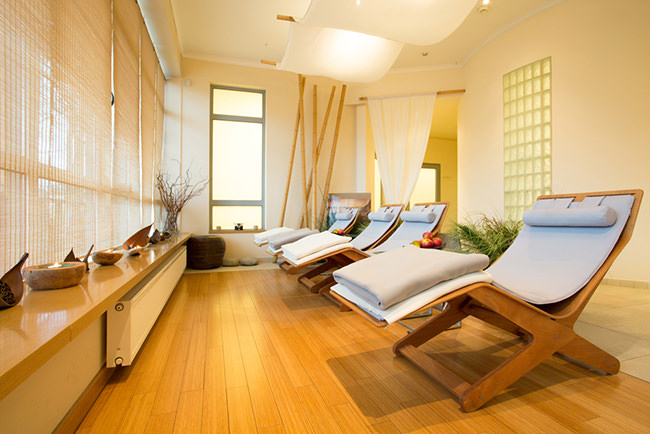 When someone makes the choice to come to a spa, they are looking for a peaceful getaway. They could be coming in for anything from working out kinks to a deep tissue massage, or to clear acne with a facial, or even get their eyebrows waxed. An overarching theme of these services is beauty and wellness. To create a peaceful environment that promotes relaxation and carries the client afloat on their mini spa vacation, the appearance of your spa is integral.
While it is essential to provide stellar services, it is also important to ensure the design of your spa matches the comfort, ease, and refreshment you are trying to achieve with your services.
Here are some spa decorating ideas to help you create a more soothing environment:
Consider the comfort and relaxation of your massage and treatment rooms.
First and foremost, take a stroll through your treatment rooms, lie down on the table, maybe even sample your own services if possible. As you do so, observe the atmosphere. Are the lights too bright? Is the music too loud? Is there music? Are the sheets scratchy? What does it smell like? Observe everything. Anything that seems off or any ideas you generate will be a good place to start.
Mix in elements of nature.
Nature, backed up by science, can help with stress reduction, re-energizing, enhancing creativity, general well-being, and more. Considering that your services are striving to achieve these same goals, you should find ways to incorporate nature into your spa business. If you are currently designing your space from the floorboards to the wall structure, consider utilizing "natural" materials like wood and brick. Another simple way to bring in natural elements would be the obvious: add flowers and plants where you can. You can easily incorporate more natural elements by adding paintings of bodies of water, forests, rain, and other relaxing scenes.
Consider your lighting.
Lighting is probably the most complicated part of spa decorating because in some areas you'll need more light, like at the front desk. In your massage room, you should avoid a lot of light because you want the client to relax into the massage. As you assess your rooms, observe how much lighting each should have. There are two key solutions to spa lighting. 1. Avoid harsh light – all lighting should be easy on the eyes. 2. Invest in lights that are adjustable so you can alter the brightness (this way you are always in control of the light, and if a client remarks that the lighting is too bright or too dark, you can easily adjust it to meet their personal preference).
Decorate with casual but pristine furniture.
What we mean by casual is something that will be comfortable for the client. For example, cozy couches and casual round tables are always a hit. This allows the guest to feel more at home, and helps them relax. Flashy furniture may only make them nervous about how expensive the service will be, or make them feel out of their element. Help clients feel comfortable the moment they walk in. The furniture should be clean and not tattered. As cleanliness is key in a spa setting, your area should look both put-together and relaxed.
Choose a main, calming color to induce relaxation.
Colors can easily influence a client's mood throughout their experience at your spa and, ultimately, impact the way someone views your business. Whether you paint your walls in a soft hue, or you plan on simply incorporating this color into your furniture and decor, it is essential to pick one color that is great for relaxation and not stray too far from that color while designing your spa. Some colors we recommend are soft blue, pale pink, and lavender.
Consider storage.
This one is less of a decorating tip and more of an organizational tip. While having calming decorations and design is essential to a relaxing spa atmosphere, so is the cleanliness and lack of clutter in your business space. Make sure you keep your area tidy by having organizational systems in place. And, even in the areas where you store supplies like towels and linens, make sure they are neatly put away with an easy-to-understand organizational system. That way, if your employees open the cabinets in front of a client, they won't be distracted by clutter and untidiness.
Update towels and linens.
Speaking of towels and linens, how do those look, especially after a couple of washes? If you're looking at your linens and see subtle stains from previous clients and any rips or tears, it may be time for you to swap them out for higher-quality towels and linens through a linen rental program.
With a quality linen rental program, you get the linens and towels your spa needs, when it needs them, and without the worry of having to launder them. At Dempsey Uniform & Linen Supply, we handle that for you. No more worrying about the time-consuming task of maintaining your own linens. You can get this tedious task done with ease when you work with Dempsey!
Simply contact us today at 1-800-378-8060 to stop wasting time doing laundry and spend more time creating a beautiful, welcoming environment for your clients.