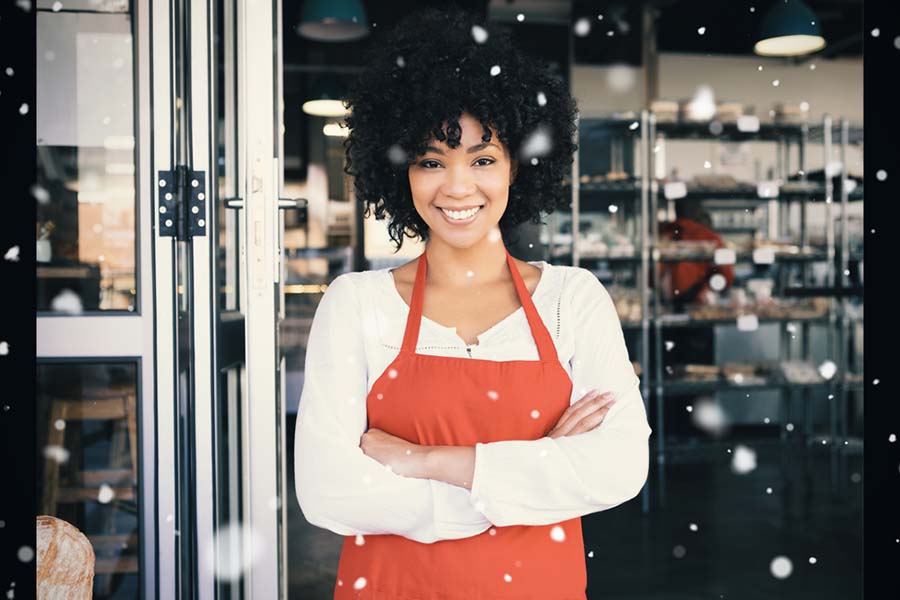 With the holidays approaching, you're probably trying to figure out how to decorate your business.
You don't have to go over the top to make an impression. While the appearance of your business is important, customer satisfaction lies most deeply in one's experience with the staff. So, focus on adjusting your employee uniforms to look as festive as possible.
During the Holiday Season, people are filled with joy, happiness, and celebration. When your customers enter your business and see the festive holiday office outfits your staff is wearing, they'll love that you're participating in this joyous season. The happier they are with their experience, the more they're willing to spend!
You're probably wondering how exactly you can dress your employees up while still maintaining the professionalism of their jobs. Here are 3 ways to build the perfect festive look for your staff:
Silver or Gold Bows and Ribbons
Glittering silver and gold have always fascinated the world. Put a smile on your customers' faces by incorporating sparkling colors into your uniforms. Have your female employees wear a silver or gold bow or ribbon in their hair and have your male employees wear a bow tie of the same color.
Red and Green Uniforms
We all know the classic colors of Christmas – red and green. So, it's a no-brainer to incorporate these hues into your uniforms for that festive look. Pair each uniform with a red or green shirt or apron. This will help your employees look professional while evoking the holiday spirit.
Festive Pin or Name Tag
To finish off a subtle but strong holiday look for your staff, add a holiday pin or functional, festive nametag. This will complete and bring together the entire look. Your customers will recognize the extra effort your business put in to give them a wonderful holiday experience.
Dress Up with Dempsey
Luckily for you, at Dempsey, we can help you with your uniform needs. For help in selecting uniforms for your staff, call 1-800-378-8060.