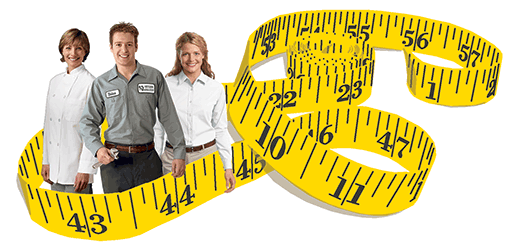 Uniforms are vital for any business. This is due to the appearance of professionalism and enhanced sense of safety that comes along with renting high quality uniforms for a company's staff. Uniforms brand a company's image and prove to customers and visitors that employees are of the highest quality and that there's value in the service. Uniform rentals also help prevent team members from splatters and stains in medical, industrial, and food preparation businesses.
It's important to choose a uniform that has a good fit for employees and staff. Poorly fit attire presents a sloppy view of the company and the employee. In addition, uniforms that are too small or too large on an individual can be dangerous in several industries. Wearing poorly fit uniforms in manufacturing plants can result in the fabric getting caught in machinery. Also, small attire could restrict breathing and cause discomfort. Wearing loosely-fitted attire in medical facilities may create opportunities for staff to knock over objects or mistakenly transfer unsanitary objects. Prevent uniform-related accidents from occurring by making sure all your employees are wearing proper uniforms with a perfect fit, not too snug and not too loose.
Dempsey Uniform & Linen Supply understands the importance of wearing high quality, perfect fit uniforms. Therefore, we strive to provide the best products and excellent service with every delivery. We service all types of industries: manufacturing, automotive, contractors, healthcare, spas and gyms, hotels, food service, grocery, and financial companies. Give us a call today at 1-800-378-8060, and we will be more than happy to go through our products and prices to start a service for you as soon as possible.