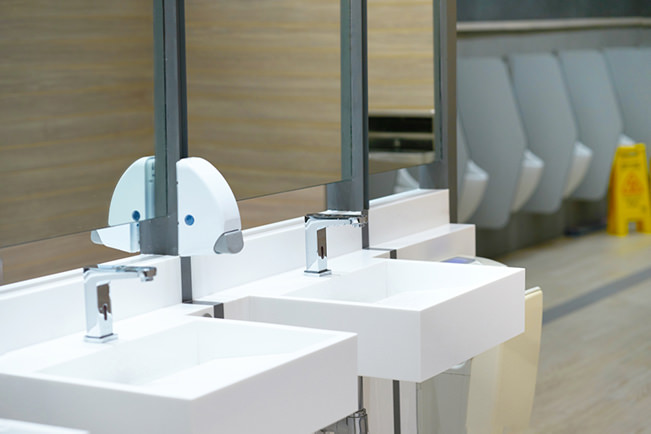 When you own a business, you want to have clean, inviting bathrooms. A messy bathroom can impact your business negatively. Studies show that over half of Americans are unlikely to return to a business where they encountered an unpleasant restroom. That's a lot of customers to potentially lose!
With nearly 60 years of industry experience, we've seen it all here at Dempsey. So, what do you need to keep your bathroom sparkling?
Here are our restroom must-haves to maintain a pleasant bathroom experience for your customers:
Paper Towel and Soap Dispensers
Of course, paper towel and soap dispensers are a must in any bathroom, but consider upgrading these basic devices in your restroom. Automatic paper towel and soap dispensers are a great way to reduce the spread of germs and save you time and money.
When you go automatic, you regulate how much your customers can take so you save more product, money, and time restocking and cleaning! If you choose not to go automatic, getting a classic paper towel and soap dispenser will still do the trick and complete any bathroom.
Air Fresheners
Air fresheners are a must-have for any restroom because bad smells can be extremely damaging to your business.
For convenience, utilize an automatic air freshener that will consistently mist out pleasant scents on a timer. That way, you don't have to rely on customers to spray anything themselves or have to constantly check the restrooms to see if they need to be sprayed. Let the air freshener do the work for you!
Wet Area Mats
What's the best way to fight off germs in a bathroom? Researchers discovered that, after an hour of use, a public bathroom can house 500,000 bacterial cells per square inch! A good way to combat these germs is with a wet area mat. Wet area mats reduce bacteria growth and improve general hygiene. This also helps decrease foul smells in the bathroom.
Additionally, wet area mats trap liquids, keeping the floor clean and shoes dry. Utilizing a wet area mat will save you time as you won't have to constantly check and mop the restrooms. Your customers will also appreciate having dry feet!
Count on Dempsey for your Restroom Essentials 
Paper towel and soap dispensers, air fresheners, and wet area mats are restroom essentials that will help keep your bathrooms looking and smelling clean at all times. At Dempsey, we know how important your time and money is. So, count on us for all of your restroom services today!
With decades of experience in the industry, we know what it takes to keep a bathroom looking fresh without hurting your budget. We offer a wide variety of restroom products and services at a great price to ensure your bathrooms remain welcoming to your customers. Browse our complete selection of facility supplies, then contact us today for more information at 1-800-378-8060.