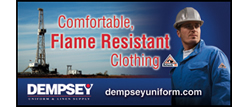 Mark Lewis, Corporate Sales Manager of Dempsey Uniform & Linen Supply, participated in a panel discussion that focused on local success stories in the Marcellus Shale region. Lewis explained how Dempsey Uniform, supplier of flame resistant (FR) work shirts, work pants, and coveralls, has helped businesses protect their employees and comply with safety regulations.
The program was held through the efforts of MetroAction and Keystone College to help local business owners learn from industry experts about opportunities to deliver services and support the energy industry.
Presenters included industry professionals Janice Lobdell from Pennsylvania Oil and Gas Association (PIOGA) and Mike Narcavage from Chesapeake Energy Corporation.