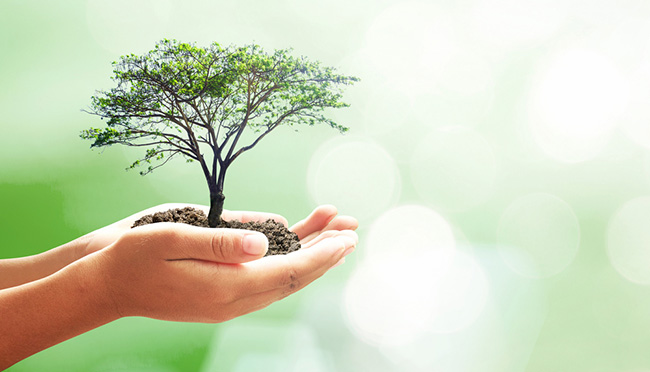 When you think about a green business, a commercial laundry might not come to mind. Commercial laundries use massive quantities of water and energy, and contaminate the air by driving vehicles to pick up and drop off supplies.
Not this commercial laundry. Sure, at Dempsey, we use water and energy to get the job done. But our processes are much more eco-friendly than you might think, and the products you get from working with Dempsey actually reduce excessive contributions to landfills. You're dealing with an award-winning, go green commercial laundry.
When you work with Dempsey, you get:
• Leadership by example
• Reuse of textiles
• Conservation of resources
Go green with the reuse of textiles.
Disposable products are still basking in the labels of convenience and price. However, the carbon footprint of these quickly tossable materials is not something to be ignored. According to the Energy Co-op, "If every American reduced the number of paper towels they use by just one per day, we would divert 571,230,000 pounds of paper waste each year."
With Dempsey as your rental company, you can get reusable materials that we will gladly pick up, wash, and deliver back to you. That way, you can retain the convenience of having a fresh towel at your fingertips without having to clean it yourself, while simultaneously reducing your company's carbon footprint.
Disposable supplies you may currently be purchasing that have a reusable textile counterpart include:
• Paper towels – choose cloth cleaning towels instead
• Disposable mops – choose reusable mops instead
• Disposable patient gowns – choose reusable patient gowns instead
• Disposable mats – choose rental mats instead
• Paper wipes – choose cloth shop towels instead
At Dempsey, we go green by conserving resources.
It's not just the products we offer that make us a green company. Any company can offer you reusable products. The way we handle and launder these materials is what sets us apart.
Water use and energy use can have a negative impact on the environment. That's why we go the extra mile to make every aspect of the rental and laundering process as sustainable as possible.
We go green in the way we:
Reclaim heat – Instead of relying solely on natural gas to heat water for laundering, we capture heat from our laundry's wastewater. This heat is reused to preheat incoming fresh water. This helps us recover up to 60% of our water heating energy.
Purchase equipment – We use top-of-the-line, energy-efficient equipment that uses significantly less natural gas as compared to older systems.
Light our facility – For efficient lighting, we use special, eco-friendly lights and bulbs, and let in natural light with large windows and skylights.
Reuse water, detergent, and energy – We conserve over 8 million gallons of water per year by reusing the soapy water from lightly soiled items and then using it to pre-wash heavily soiled items.
Optimize route paths – We use Roadnet Territory Planner. This helps us find the most efficient routes to take so we don't drive unnecessary miles, wasting fuel.
Monitor and analyze how much water, gas, and electricity we use – We use a utility management system to track our efforts in our go green initiative. This allows us to make changes in our processes if we notice inefficiencies in the system.
Reuse hangers – We offer on-site customer reclamation programs, so none of the garment hangers that come in or out of our facility are wasted.
Recycle materials – We have a recycling program so we can rescue more than 30 tons of materials – like wood, plastic, cardboard, paper, and metal – from landfills.
We also have received many certifications and awards for our go green initiative.
If you're still not sure if we truly are a green company, take a look at our accreditations. At Dempsey, we're not just talking about sustainable measures as a selling point. We genuinely care about the environment and what will remain for future generations.
You know with Dempsey you are getting a green product because we have earned the following recognitions:
• CleanGreen™ Certification
• Energy-Smart Business Honor Roll
• U.S. EPA Sustainability Partnership
• Green Powerhouse Award™
It's not just the names we are associated with that have meaning to us. Protecting the environment is a collective effort. So, we participate in industry and local outreach to educate the community on go green initiatives. This way, others can integrate green strategies into their own businesses.
With Dempsey, you don't just get a company that provides the linen and uniform service you're looking for. You get a company who cares about the community, the environment, and your success.
Contact us today at 1-800-378-8060 to get started on a linen and uniform rental program you can feel great about!