PerforMAX Scrub Pants
Available in a variety of sizes and colors
Designed to match our PerforMAX Scrub Shirts, these scrubs are just as soft, flexible, and comfortable, and allow your team to present a beautifully coordinated, professional appearance. High-performace PerforMAX fabric acts like athletic wear, wicking sweat and moisture away from the skin. This tightly woven, low-linting fabric offers superior color retention and meets AORN's Recommended Practices for Surgical Attire. The drawstring waist allows for quick changes and a comfortable fit.
• Unisex, reversible scrub pant
• Drawstring waist
• Back pocket inside and out
• PerforMAX 100% polyester
Need help or have questions?
How a Uniform Rental Program Works
You'll have what you need, when you need it. No more purchasing or laundering headaches.
With a rental program, Dempsey purchases, stocks, launders, mends and replaces your uniforms automatically. Lease programs are available for customers who prefer employees wash their own uniforms. Service is scheduled for the same day each week and a professional route person monitors your needs. Renting or leasing from Dempsey is a convenient, cost-effective way to outsource a time-consuming task so you can focus on more important things.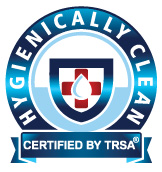 Dempsey is a Certified Hygienically Clean Laundry.
Certified by TRSA
Requires third-party, quantified biological testing and inspection
Use of PPE is documented
Our Uniform System delivers three unique benefits:
The highest quality products
The most reliable deliveries
The lowest total cost
Dempsey Uniform & Linen Supply is a top-rated uniform rental service company.
Our $18 million commercial laundry service facility has received national recognition for its state-of-the-art processing systems.