Flame Resistant Work Shirts
Flame Resistant Work Shirts
Available in a variety of sizes
Dempsey's Flame Resistant Work Shirts provide employees with an extra level of protection and safety in work environments where sparks, flashes, or flames occur. Enjoy some well-deserved peace of mind, secure in the knowledge that these Bulwark shirts are keeping your workers covered and comfortable.
• Available in long sleeve
• 7.0 oz. Westex Ultrasoft flame resistant, 88% cotton / 12% nylon
• Bulwark brand
• HRC 2 Arc Rating ATPV 8.6 calories/cm² – Arc-rated FR shirt and FR pants or FR coverall with a required minimum ATPV of 8
• One-piece, lined cuff with button closure, sleeve vents
• Two-piece, lined collar
• Hemmed front with button closure
• Two chest pockets with flap closures and sewn-in pencil stall
• Navy color
• UL classified garment – certified by Underwriters Laboratories to meet the requirements of NFPA 2112 Standard and NFPA 2113 Standard on Selection, Care, Use, and Maintenance of Flame Resistant Garments for Protection of Industrial Personnel Against Flash Fire, 2007 Edition, requires that garments cover the upper and lower body and flammable underlayers as completely as possible. Bulwark garments meet this requirement either as a single garment such as coverall; or when worn with another certified garment such as a shirt or pants to provide both upper and lower body coverage.
Need help or have questions?
How a Uniform Rental Program Works
You'll have what you need, when you need it. No more purchasing or laundering headaches.
With a rental program, Dempsey purchases, stocks, launders, mends and replaces your uniforms automatically. Lease programs are available for customers who prefer employees wash their own uniforms. Service is scheduled for the same day each week and a professional route person monitors your needs. Renting or leasing from Dempsey is a convenient, cost-effective way to outsource a time-consuming task so you can focus on more important things.
Our Uniform System delivers three unique benefits: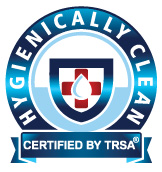 Dempsey is a Certified Hygienically Clean Laundry.
Certified by TRSA
Requires third-party, quantified biological testing and inspection
Use of PPE is documented
Dempsey Uniform & Linen Supply is a top-rated uniform rental service company.
Our $18 million commercial laundry service facility has received national recognition for its state-of-the-art processing systems.