Coffee Message Mats
Size: 3'x5'
A Coffee Message Mat service can help increase sales! Place these bold, colorful graphic mats at checkout lines, at deli counters, in the snack aisle, and anywhere you think you could cross-sell a hot, delicious cup of coffee. Designed to keep problematic, self-service areas clean, neat and professional, they also provide much-appreciated traction in the presence of drips or spills. Dempsey's mat rental service includes the regular exchange of soiled mats for freshly laundered ones.
• Twisted, heat-set nylon pile on nitrile rubber backing
• Increase sales and store traffic
• Attractive coffee design hides stains and prevents slips from spills
• Fresh, clean mats are delivered on a regular schedule
• Professionally cleaned so each mat works like a new one
Need help or have questions?
How a Mat Rental Service Works
To be effective, mats need to be professionally cleaned on a regular basis. Otherwise, they contribute to the problem rather than solving it.
With a rental program, Dempsey purchases, cleans and replaces your floor mats automatically.  On a set schedule, a professional route person will exchange clean, laundered mats for your soiled ones. Renting from Dempsey is a convenient, cost-effective way to stop dirt at the door and keep your place of business clean.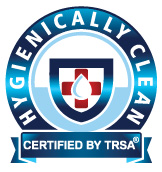 Dempsey is a Certified Hygienically Clean Laundry.
Certified by TRSA
Requires third-party, quantified biological testing and inspection
Use of PPE is documented
Dempsey Uniform & Linen Supply is a top-rated mat rental service company.
Our $18 million commercial laundry service facility has received national recognition for its state-of-the-art processing systems.
Get more Value with these Resources: