Urinal Mats
Direct Purchase
Improve restaurant hygiene, protect floors, reduce slips, and help control odor.
Dempsey's slip-resistant Urinal Mats absorb and neutralize odor-causing urine, creating a safer, healthier restroom environment. Clean floors and effective odor control make a positive impression and help increase customer satisfaction. As part of Dempsey's service, we will deliver your urinal mats on a regular, convenient schedule.
• Measures 17.5″ x 21″
• Charcoal color, 100% post consumer recycled PET fabric
• Adhesive back to help keep it in place
• Antimicrobial top to cut down on odors
• Easy to read, 30 day time strip to indicate mat replacement
Need help or have questions?
How a Facility Supply Service Works
Lack of restroom and janitorial supplies can cause complaints from customers and employees.
With our powerful route delivery network and professional service representatives, we will shorten your supply chain to save you time and money. Each week, we'll make sure your business is appropriately stocked with our strategic line-up of essential products. We'll refill soap dispensers, replace air fresheners, and restock your shelves with paper, disposable gloves and trash can liners.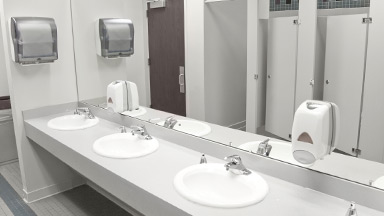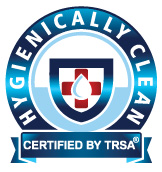 Dempsey is a Certified Hygienically Clean Laundry.
Certified by TRSA
Requires third-party, quantified biological testing and inspection
Use of PPE is documented
Dempsey Uniform & Linen Supply is a top-rated facility supplies and services company.
Our $18 million commercial laundry service facility has received national recognition for its state-of-the-art processing systems.