Manual Soap Dispenser & Refills
Manual Soap Dispenser & Refills
Dimensions: 3.62" x 10.5" x 3.87"
Many business owners find that simplicity makes this manual soap dispenser a refreshing choice. Practically maintenance-free, it requires no power of any kind, is incredibly cost-effective, and functions beautifully just about anywhere. The pump mixes precise amounts of concentrated soap and air to create a luxurious foam, perfect for working up a cleansing lather.
• Manual "push" dispenser provides one hand delivery of soap
• A new pump on each refill increases sanitation and stops wasteful, messy drips
• Concentrated, foam soap formula provides long lasting refills
• REFILL: FoamFreshTM Antimicrobial Hand Soap (luxury foam soap formulated with collagen to moisturize skin, effective bacteria reduction with active ingredient: 0.25% PCMX, made in USA)
Need help or have questions?
How a Facility Supply Service Works
Lack of restroom and janitorial supplies can cause complaints from customers and employees.
With our powerful route delivery network and professional service representatives, we will shorten your supply chain to save you time and money. Each week, we'll make sure your business is appropriately stocked with our strategic line-up of essential products. We'll refill soap dispensers, replace air fresheners, and restock your shelves with paper, disposable gloves and trash can liners.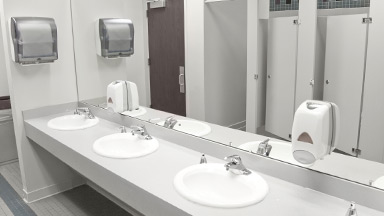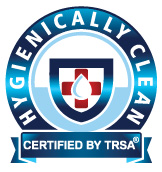 Dempsey is a Certified Hygienically Clean Laundry.
Certified by TRSA
Requires third-party, quantified biological testing and inspection
Use of PPE is documented
Dempsey Uniform & Linen Supply is a top-rated facility supplies and services company.
Our $18 million commercial laundry service facility has received national recognition for its state-of-the-art processing systems.