Push Bar Roll Towel Dispenser & Refills
Push Bar Roll Towel Dispenser & Refills
Dimensions: 10.56" x 15.67" x 8.64"
With a sturdy lever for arm or elbow dispensing, these ADA compliant, commercial paper towel dispensers help eliminate cross-contamination. With a classic look and timeless design, they offer smooth, quiet, ease of operation. Quick to install and low maintainance by design, they are a universal choice for facilitating the needs of your employees and guests.
• Manual push bar lever system delivers 5.5″ of towel with each stroke
• Dispenses cost-effective, high capacity, absorbent hardwound roll towels
• 8″ roll diameter capacity; 2.5″ core diameter
• Locked design protects against pilferage, reducing costs
• REFILL: React Natural Roll Towels (standard weight proprietary roll, 1-ply, 8″ wide, 800′ per roll, 6 rolls per case, 2″ core)
• REFILL: React White Roll Towels (heavy weight proprietary roll, 1-ply, 8″ wide, 650′ per roll, 6 rolls per case, 2″ core)
Need help or have questions?
How a Facility Supply Service Works
Lack of restroom and janitorial supplies can cause complaints from customers and employees.
With our powerful route delivery network and professional service representatives, we will shorten your supply chain to save you time and money. Each week, we'll make sure your business is appropriately stocked with our strategic line-up of essential products. We'll refill soap dispensers, replace air fresheners, and restock your shelves with paper, disposable gloves and trash can liners.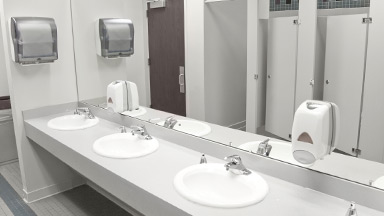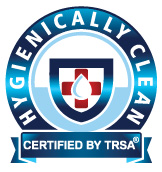 Dempsey is a Certified Hygienically Clean Laundry.
Certified by TRSA
Requires third-party, quantified biological testing and inspection
Use of PPE is documented
Dempsey Uniform & Linen Supply is a top-rated facility supplies and services company.
Our $18 million commercial laundry service facility has received national recognition for its state-of-the-art processing systems.