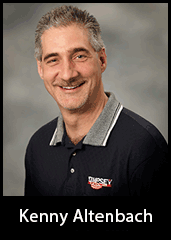 A manager from Dempsey Uniform & Linen Supply was attending a community association dinner at The Meadows restaurant when a woman started choking.
Kenny Altenbach noticed the woman was unable to breathe and performed the Heimlich Maneuver. After a few thrusts, a large piece of food came loose from the woman's throat, and she began to breathe normally.
"I always wondered how I would react to something like that. It was strictly instinct," Altenbach said in a local press interview. Altenbach credits the lifesaving training he received as a 17-year old ambulance volunteer in New Jersey.
Altenbach, a plant manager for Dempsey Uniform & Linen Supply in Sunbury, PA, has a history of serving his community including doing volunteer work for the Danville Area Community Foundation and Big Brothers Big Sisters of the Central Susquehanna Valley. Altenbach was honored by the Montour County commissioners for saving the woman's life.