Women's Solid Work Shirts
Women's Solid Work Shirts
Available in a variety of colors and sizes
In addition to a flattering cut, these Women's Solid Work Shirts deliver a high level of comfort and ease of movement, a perfect choice for busy team members. Your staff will look sharp and professional throughout the day, thanks to the fabric's durable press finish that resists wrinkles and creases.
• Available in long sleeve and short sleeve
• 4.5 oz. Poplin, 65% polyester / 35% cotton
• TouchTex technology delivers superior color retention, soil release, and wickability
• Five button closures with gripper at neck
• Two-piece, lined collar, sewn-in stays
• Two button-thru hex style pockets with angled bartacks, bartacked pencil stall in left pocket
Need help or have questions?
How a Uniform Rental Program Works
You'll have what you need, when you need it. No more purchasing or laundering headaches.
With a rental program, Dempsey purchases, stocks, launders, mends and replaces your uniforms automatically. Lease programs are available for customers who prefer employees wash their own uniforms. Service is scheduled for the same day each week and a professional route person monitors your needs. Renting or leasing from Dempsey is a convenient, cost-effective way to outsource a time-consuming task so you can focus on more important things.
Our Uniform System delivers three unique benefits: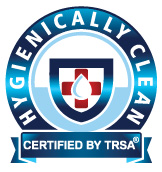 Dempsey is a Certified Hygienically Clean Laundry.
Certified by TRSA
Requires third-party, quantified biological testing and inspection
Use of PPE is documented
Dempsey Uniform & Linen Supply is a top-rated uniform rental service company.
Our $18 million commercial laundry service facility has received national recognition for its state-of-the-art processing systems.