High Visibility Safety Vests
High Visibility Safety Vests
Direct Sale Available in a variety of sizes
These Vests are intended for use in activities where greater visibility is necessary during inclement weather conditions, or in work environments with risks that exceed those for Class 1. They are an excellent choice for protecting workers who perform tasks that divert their attention from approaching traffic, or that put them in close proximity to passing vehicles traveling at 25 mph or higher.
• 3.6 oz. High visibility twill, 100% polyester
• LiteFX brand
• 360° Visibility with 2″ silver reflective striping around body above waist and over shoulder
• ANSI/ISEA 107-2015 type R class 2 compliant – Intended for use by personnel exposed to vehicular traffic from public access rights of way or roadway temporary traffic control zones. Class 2 garments require the use of greater amounts of high-visibility materials that help distinguish between a human and an inanimate object.
• Hook and loop front closure
• Adjustable sides
• Yellow green color
Need help or have questions?
How a Uniform Rental Program Works
You'll have what you need, when you need it. No more purchasing or laundering headaches.
With a rental program, Dempsey purchases, stocks, launders, mends and replaces your uniforms automatically. Lease programs are available for customers who prefer employees wash their own uniforms. Service is scheduled for the same day each week and a professional route person monitors your needs. Renting or leasing from Dempsey is a convenient, cost-effective way to outsource a time-consuming task so you can focus on more important things.
Our Uniform System delivers three unique benefits: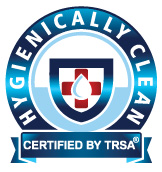 Dempsey is a Certified Hygienically Clean Laundry.
Certified by TRSA
Requires third-party, quantified biological testing and inspection
Use of PPE is documented
Dempsey Uniform & Linen Supply is a top-rated uniform rental service company.
Our $18 million commercial laundry service facility has received national recognition for its state-of-the-art processing systems.