Specialized Pocketless Scrub Pants
Specialized Pocketless Scrub Pants
Available in a variety of sizes and colors
Dempsey's specialized pocketless scrub pants are a smart choice for employees in a variety of industries. Assigning scrub pants without pockets is a low-tech way to maintain a high level of safety in an environment where germ transference is a concern. Pocket-free scrubs help reduce the chances of staff carrying loose personal items or business property around the building or off the premises, minimizing opportunities for cross-contamination. The design also curtails the possibility of bringing pests into the facility. Keeping personal items - like mobile phones - in a locker instead of a pocket, can improve productivity and performance accuracy by removing distracting notifications and messages.
• 65% Polyester / 35% Cotton
• Unisex, reversible scrub pant
• Drawcord closure with easy glide webbing
• No pockets
• Direct Sale
Need help or have questions?
How a Uniform Rental Program Works
You'll have what you need, when you need it. No more purchasing or laundering headaches.
With a rental program, Dempsey purchases, stocks, launders, mends and replaces your uniforms automatically. Lease programs are available for customers who prefer employees wash their own uniforms. Service is scheduled for the same day each week and a professional route person monitors your needs. Renting or leasing from Dempsey is a convenient, cost-effective way to outsource a time-consuming task so you can focus on more important things.
Our Uniform System delivers three unique benefits: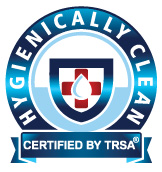 Dempsey is a Certified Hygienically Clean Laundry.
Certified by TRSA
Requires third-party, quantified biological testing and inspection
Use of PPE is documented
Dempsey Uniform & Linen Supply is a top-rated uniform rental service company.
Our $18 million commercial laundry service facility has received national recognition for its state-of-the-art processing systems.