PerforMAX Warm-Up Jackets
PerforMAX Warm-Up Jackets
Sizes: XS-5XL
This comfortable, long-sleeved jacket is a smart addition to medical work uniforms, especially if staffers are exposed to the fluctuating temperatures of an Emergency Room, or a draft from the opening and closing of an exterior door. Made with high-performance PerforMAX fabric that wicks moisture away from the skin, the fabric holds its color and coordinates with PerforMAX Scrub Shirts and Scrub Pants. Knit cuffs limit wrist exposure to pathogens.
• Unisex warm-up jacket
• Four snap front closure
• Two lower front pockets, right pocket has scissors holder
• Knit cuffs
• PerforMAX 100% polyester
Need help or have questions?
How Medical Linen Service Rental Works
You'll have what you need, when you need it. No more purchasing or laundering headaches.
With a rental program, Dempsey purchases, stocks, launders and replaces your healthcare linens and scrubs automatically. Service is scheduled for the same days each week and a professional route person, trained in universal precautions, monitors your needs. Renting from Dempsey is a convenient, cost-effective way to outsource a time-consuming task so you can focus on your patients.
Our Medical Linen System delivers three unique benefits:
The highest quality products
The most reliable deliveries
The lowest total cost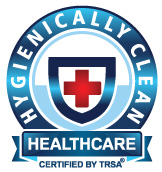 Dempsey is a Certified Hygienically Clean Laundry.
Certified by TRSA
MEDtegrity equity member
GPO affiliations
Dempsey Uniform & Linen Supply is a top-rated medical linen service company.
Our $18 million commercial laundry service facility has received national recognition for its state-of-the-art processing systems.