Doctor & OR Towels
Rental Item
These towels are designed specifically for situations, like operating rooms, that require a high degree of cleanliness and a minimal level of lint. They deliver reliable absorption and permeability, and stand up easily to the rigors of repeated, heavy laundering. Many medical facilities rely on reusable cloth items to help reduce waste and lower overall costs.
• Tightly woven to limit lint
• Non-sterile
• Reusable
• Doctor towel in white (18″ x 33″)
• OR towel in blue (17″ x 29″)
Need help or have questions?
How Medical Linen Service Rental Works
You'll have what you need, when you need it. No more purchasing or laundering headaches.
With a rental program, Dempsey purchases, stocks, launders and replaces your healthcare linens and scrubs automatically. Service is scheduled for the same days each week and a professional route person, trained in universal precautions, monitors your needs. Renting from Dempsey is a convenient, cost-effective way to outsource a time-consuming task so you can focus on your patients.
Our Medical Linen System delivers three unique benefits:
The highest quality products
The most reliable deliveries
The lowest total cost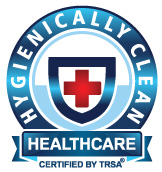 Dempsey is a Certified Hygienically Clean Laundry.
Certified by TRSA
MEDtegrity equity member
GPO affiliations
Dempsey Uniform & Linen Supply is a top-rated medical linen service company.
Our $18 million commercial laundry service facility has received national recognition for its state-of-the-art processing systems.