PerforMAX Scrub Pants
Available in a variety of sizes and colors
Designed to match our PerforMAX Scrub Shirts, these scrubs are just as soft, flexible, and comfortable, and allow your team to present a beautifully coordinated, professional appearance. High-performace PerforMAX fabric acts like athletic wear, wicking sweat and moisture away from the skin. This tightly woven, low-linting fabric offers superior color retention and meets AORN's Recommended Practices for Surgical Attire. The drawstring waist allows for quick changes and a comfortable fit.
Recommended Practices for Surgical Attire. In: 2011 Perioperative Standards and Recommended Practices. Denver, CO: Association of PeriOperative Registered Nurses; 2011.
• Unisex, reversible scrub pant
• Drawstring waist
• Back pocket inside and out
• PerforMAX 100% polyester
Need help or have questions?
How Medical Linen Service Rental Works
You'll have what you need, when you need it. No more purchasing or laundering headaches.
With a rental program, Dempsey purchases, stocks, launders and replaces your healthcare linens and scrubs automatically. Service is scheduled for the same days each week and a professional route person, trained in universal precautions, monitors your needs. Renting from Dempsey is a convenient, cost-effective way to outsource a time-consuming task so you can focus on your patients.
Our Medical Linen System delivers three unique benefits:
The highest quality products
The most reliable deliveries
The lowest total cost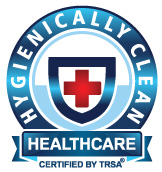 Dempsey is a Certified Hygienically Clean Laundry.
Certified by TRSA
MEDtegrity equity member
GPO affiliations
Dempsey Uniform & Linen Supply is a top-rated medical linen service company.
Our $18 million commercial laundry service facility has received national recognition for its state-of-the-art processing systems.