Telemetry Gowns
Size: Unisex - one size fits most
While providing patients with a generous range of motion and overall comfort, Dempsey's lunar print telemetry gown allows medical personnel easy access to wires and IV sites. Specially designed to minimize the chance of lines loosening or pulling out, this gown lets patients remain covered and retain their dignity during imaging studies.
• Telemetry pocket allows wires to pass through a buttonhole inside the pocket
• I.V. sleeves fasten with snaps
• Tie side closure for complete patient modesty
Need help or have questions?
How Medical Linen Service Rental Works
You'll have what you need, when you need it. No more purchasing or laundering headaches.
With a rental program, Dempsey purchases, stocks, launders and replaces your healthcare linens and scrubs automatically. Service is scheduled for the same days each week and a professional route person, trained in universal precautions, monitors your needs. Renting from Dempsey is a convenient, cost-effective way to outsource a time-consuming task so you can focus on your patients.
Our Medical Linen System delivers three unique benefits:
The highest quality products
The most reliable deliveries
The lowest total cost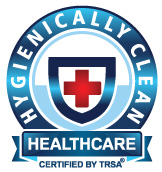 Dempsey is a Certified Hygienically Clean Laundry.
Certified by TRSA
MEDtegrity equity member
GPO affiliations
Dempsey Uniform & Linen Supply is a top-rated medical linen service company.
Our $18 million commercial laundry service facility has received national recognition for its state-of-the-art processing systems.