Touch-Free Roll Towel Dispenser & Refills
Touch-Free Roll Towel Dispenser & Refills
Dimensions: 12" x 15" x 9.5"
In high traffic restrooms, the two most commonly over-used items are soap and paper towels. Why not leverage touchless technology to control costs and reduce waste? Typically, after taking the first towel, most people automatically reach for another. To curb consumption, use the adjustable settings to put the unit in paper saving mode, then define a shorter length for the second sheet. Time delays during dispensing can also be tailored to suit your application environment.
• Automatic, touch-free dispensing reduces the risk of cross-contamination for a more hygienic washroom
• Controlled, one-at-a-time dispensing
• Adjustable settings for sheet length and dispensing time control usage
• Dispenses cost-effective, high capacity, absorbent, hardwound roll towels
• 8″ roll diameter capacity, 2.5″ core diameter
• Less expensive than national-brand automated dispensers and paper
• REFILL: React Natural Roll Towels (standard weight proprietary roll, 1-ply, 8″ wide, 800′ per roll, 6 rolls per case, 2″ core)
• REFILL: React White Roll Towels (heavy weight proprietary roll, 1-ply, 8″ wide, 650′ per roll, 6 rolls per case, 2″ core)
Need help or have questions?
How a Facility Supply Service Works
Lack of restroom and janitorial supplies can cause complaints from customers and employees.
With our powerful route delivery network and professional service representatives, we will shorten your supply chain to save you time and money. Each week, we'll make sure your business is appropriately stocked with our strategic line-up of essential products. We'll refill soap dispensers, replace air fresheners, and restock your shelves with paper, disposable gloves and trash can liners.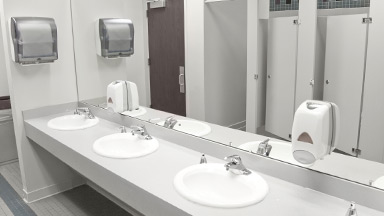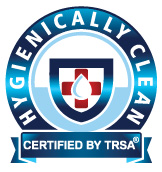 Dempsey is a Certified Hygienically Clean Laundry.
Certified by TRSA
Requires third-party, quantified biological testing and inspection
Use of PPE is documented
Dempsey Uniform & Linen Supply is a top-rated facility supplies and services company.
Our $18 million commercial laundry service facility has received national recognition for its state-of-the-art processing systems.