Jumbo Twin Toilet Tissue Dispenser & Refills
Jumbo Twin Toilet Tissue Dispenser & Refills
Dimensions: 20.25" x 11.75" x 5.5"
Containing a generous supply of toilet tissue, this dispenser can help minimize downtime and extend the restocking cycle. As traditional dispensers are vulnerable to theft, install this model with confidence in high traffic, public facilities like shopping centers, schools, airports, and stadiums.
• High capacity dispenser holds two rolls 9″ in diameter (equivalent of 11.5 standard 2-ply tissue) for continuous service
• Sliding door reduces stub waste by restricting access to second roll before main roll is used up, reducing costs
• Locked design protects against pilferage, reducing costs
• Durable, plastic dispenser encloses tissue to limit exposure to bowl splash and cleaning fluids, improving hygiene
• REFILL: Jumbo Toilet Tissue Refills (2-ply, 9″ diameter, 3.5″ wide, 1000′ per roll, 12 rolls per case)
Need help or have questions?
How a Facility Supply Service Works
Lack of restroom and janitorial supplies can cause complaints from customers and employees.
With our powerful route delivery network and professional service representatives, we will shorten your supply chain to save you time and money. Each week, we'll make sure your business is appropriately stocked with our strategic line-up of essential products. We'll refill soap dispensers, replace air fresheners, and restock your shelves with paper, disposable gloves and trash can liners.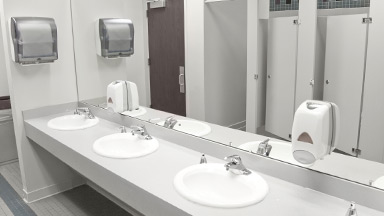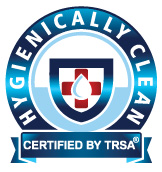 Dempsey is a Certified Hygienically Clean Laundry.
Certified by TRSA
Requires third-party, quantified biological testing and inspection
Use of PPE is documented
Dempsey Uniform & Linen Supply is a top-rated facility supplies and services company.
Our $18 million commercial laundry service facility has received national recognition for its state-of-the-art processing systems.