Enhanced Visibility Lined Panel Jackets
Enhanced Visibility Lined Panel Jackets
Available in a variety of sizes and colors
Our Enhanced Visibility Lined Panel Jackets keep team members feeling secure and confident as they move about in low light. To protect your people and your company's safety record, these jackets feature bright yellow and silver trim that runs across the chest and back and down both sleeves. The distinctive sleeve markings encourage clear visual communication, as physical gestures can be easily seen in dimly lit parking lots or on loading docks. Designed with crisp, modern lines, these jackets are the perfect topper for company uniforms and workwear. Jackets may be professionally laundered as needed with Dempsey's uniform rental service.
• Jacket: 7.25 oz. twill, 65% polyester / 35% cotton
• Lining: 100% Polyester with 100% Polyester insulation
• Solid brass zipper
• Two lower inset on-seam pockets and a utility pocket on the left sleeve
• 2 1/2" yellow/silver/yellow enhanced visibility trim down both sleeves and across the chest, with two stripes across the back
• Does not comply with ANSI/ISEA 107-2015
• Direct Sale
Need help or have questions?
How a Uniform Rental Program Works
You'll have what you need, when you need it. No more purchasing or laundering headaches.
With a rental program, Dempsey purchases, stocks, launders, mends and replaces your uniforms automatically. Lease programs are available for customers who prefer employees wash their own uniforms. Service is scheduled for the same day each week and a professional route person monitors your needs. Renting or leasing from Dempsey is a convenient, cost-effective way to outsource a time-consuming task so you can focus on more important things.
Our Uniform System delivers three unique benefits: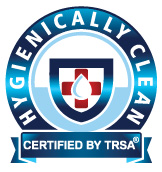 Dempsey is a Certified Hygienically Clean Laundry.
Certified by TRSA
Requires third-party, quantified biological testing and inspection
Use of PPE is documented
Dempsey Uniform & Linen Supply is a top-rated uniform rental service company.
Our $18 million commercial laundry service facility has received national recognition for its state-of-the-art processing systems.