Napkins
Available in a variety of colors
A good first impression can turn a curious diner into a life-long patron. Crisp, clean, cloth Napkins are a tangible reflection of your commitment to quality. Enhance your décor by color coordinating napkins with tablecloths, or, for a designer touch, mix and match for a beautiful, well-appointed table setting.
• Square cuts
• Hemmed edges
• Spun poly material
• Absorbs moisture and spills, retains consistent colors, and releases stains in wash
• Professionally cleaned and pressed to improve your image
Need help or have questions?
How a Restaurant Linen Rental Service Works
You'll have what you need, when you need it. No more purchasing or laundering headaches.
With a rental program, Dempsey purchases, stocks, launders, mends and replaces your linens and uniforms automatically. Service is scheduled for the same days each week and a professional route person monitors your needs. Renting from Dempsey is a convenient, cost-effective way to outsource a time-consuming task so you can focus on your guests.
Our Restaurant Linen System delivers three unique benefits:
The highest quality products
The most reliable deliveries
The lowest total cost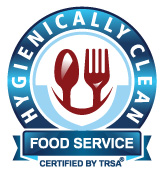 Dempsey is a Certified Hygienically Clean Laundry.
Certified by TRSA
Requires third-party, quantified biological testing and inspection
Use of PPE is documented
Dempsey Uniform & Linen Supply is a top-rated restaurant linen service company.
Our $18 million commercial laundry service facility has received national recognition for its state-of-the-art processing systems.
Get more Value with these Resources: