30 Gallon Can Liners (High Density)
30 Gallon Can Liners (High Density)
Direct Purchase
Select the right bag: high density bags are thinner and work well for light trash, while low density bags are thicker and more puncture-resistant to accommodate sharp or rough items. These tall, high-density trash can liners are designed with superior vapor and moisture protection to contain leaks. As long as the trash is comprised of typical rubbish that might come from offices or restrooms, these garbage bags perform admirably.
• 30 gallon / 30 W x 37 L / 13 Mic gauge
• Maximum load capacity 50 lbs.
• Clear, high-density polyethylene resin
• Superior vapor and moisture protection
• Star-sealed bottom / Coreless mini rolls
• Packaged in rugged white box / 500 liners per case
• Made in USA
Need help or have questions?
How a Facility Supply Service Works
Lack of restroom and janitorial supplies can cause complaints from customers and employees.
With our powerful route delivery network and professional service representatives, we will shorten your supply chain to save you time and money. Each week, we'll make sure your business is appropriately stocked with our strategic line-up of essential products. We'll refill soap dispensers, replace air fresheners, and restock your shelves with paper, disposable gloves and trash can liners.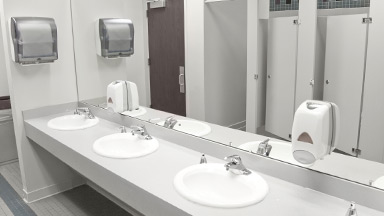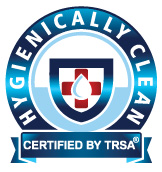 Dempsey is a Certified Hygienically Clean Laundry.
Certified by TRSA
Requires third-party, quantified biological testing and inspection
Use of PPE is documented
Dempsey Uniform & Linen Supply is a top-rated facility supplies and services company.
Our $18 million commercial laundry service facility has received national recognition for its state-of-the-art processing systems.