Lab / Counter Coats
Length 30"
These Lab / Counter Coats are cut a bit shorter and feature a roomier fit than a classic Lab Coat. Today, the truncated length is popular with a variety of team members who appreciate their style and functionality. The sturdy material washes and wears beautifully, retaining its like-new appearance for a long time, through many laundering cycles. It's the perfect cover garment for bodily protection and quick staff identification.
• 5 oz. Performance blend Poplin
• 80% Polyester / 20% combed cotton
• Blazer styling, rounded fronts
• Three button front closure
• One-piece, lined collar with notched lapel
• Left chest pocket, bartacked pencil stall, and two lower pockets
Need help or have questions?
How a Uniform Rental Program Works
You'll have what you need, when you need it. No more purchasing or laundering headaches.
With a rental program, Dempsey purchases, stocks, launders, mends and replaces your uniforms automatically. Lease programs are available for customers who prefer employees wash their own uniforms. Service is scheduled for the same day each week and a professional route person monitors your needs. Renting or leasing from Dempsey is a convenient, cost-effective way to outsource a time-consuming task so you can focus on more important things.
Our Uniform System delivers three unique benefits: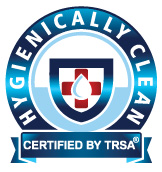 Dempsey is a Certified Hygienically Clean Laundry.
Certified by TRSA
Requires third-party, quantified biological testing and inspection
Use of PPE is documented
Dempsey Uniform & Linen Supply is a top-rated uniform rental service company.
Our $18 million commercial laundry service facility has received national recognition for its state-of-the-art processing systems.