Chef Coats
Available in a variety of sizes
In many professions, warm temperatures can negatively impact personal performance. However, in the kitchen, where chefs and cooks move briskly around flaming burners and scorching ovens, it's critically important they maintain a comfortable body temperature. Dempsey's classic Chef Coats protect the arms from spatters and stains, while allowing air to flow up and under the partial sleeves.
• 7 oz. Performance poplin, 100% spun polyester
• Double breasted
• 3/4 Sleeve
• Moisture management and soil release
• Ten non-yellowing button front
• Stand collar
• Left chest pocket, 2 section thermometer pocket on left sleeve
Need help or have questions?
How a Uniform Rental Program Works
You'll have what you need, when you need it. No more purchasing or laundering headaches.
With a rental program, Dempsey purchases, stocks, launders, mends and replaces your uniforms automatically. Lease programs are available for customers who prefer employees wash their own uniforms. Service is scheduled for the same day each week and a professional route person monitors your needs. Renting or leasing from Dempsey is a convenient, cost-effective way to outsource a time-consuming task so you can focus on more important things.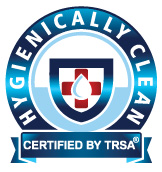 Dempsey is a Certified Hygienically Clean Laundry.
Certified by TRSA
Requires third-party, quantified biological testing and inspection
Use of PPE is documented
Our Uniform System delivers three unique benefits:
The highest quality products
The most reliable deliveries
The lowest total cost
Dempsey Uniform & Linen Supply is a top-rated uniform rental service company.
Our $18 million commercial laundry service facility has received national recognition for its state-of-the-art processing systems.