Microfiber Towels
Size: 16" x 16"
The beauty of microfiber lies in the construction of the towel itself. Split fibers create a much larger surface area than would be found on the same size cotton cloth or paper towel. Acting much like a sponge, this fast-drying, flexible towel easily picks up a surprisingly large amount of liquid, dirt, dust, and debris.
• Blue microfiber
• Low to no lint
• Do not use on hot surfaces or with molten liquids
Need help or have questions?
How Towel Service Rental Works
You'll have what you need, when you need it. No more purchasing or laundering headaches.
With a rental program, Dempsey purchases, stocks, launders and replaces your towels automatically. Service is scheduled for the same days each week and a professional route person monitors your needs. Renting from Dempsey is a convenient, cost-effective way to outsource a time-consuming task so you can focus on your clients.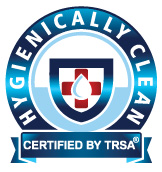 Dempsey is a Certified Hygienically Clean Laundry.
Certified by TRSA
Requires third-party, quantified biological testing and inspection
Use of PPE is documented
Dempsey Uniform & Linen Supply is a top-rated towel service company.
Our $18 million commercial laundry service facility has received national recognition for its state-of-the-art processing systems.
Get more Value with these Resources: